Tiddlywinks
Tiddlywinks is our weekly term time pre-school group, open to all babies and toddlers with their parents/carers. Run by volunteers from our church - it is a great opportunity for adults to meet other parents, nannies and childminders in a relaxed atmosphere and for the little ones to play, do craft and join in with the singing.
Every Tuesday from 9.30am-11.30am during term time for over 1's
Every Friday from 10.30am-11.30am during term time for under 1's (no booking required)
We take a break for Christmas now - return Tuesday 16th Janaury 2024. 
Thank you all for coming and we hope that you will come to our Christmas party on Saturday 9th December - see below for details! 

We operate a booking system for Tuesdays in order to make sure the session is safe and comfortable for all who attend. Please click on the button below to book your and your child's place. You need to book each week. 
Only book if you are sure that you are able to come. If you find that you are unable to come to the session after booking - please let us know as soon as you can so that we can free up space for others. If you book and do not attend without telling us - you will not be able to book again for two weeks. 

The cost of the session is £2.50 per ADULT - this covers the cost of running the group but the majority of the money goes to help a Christian group in Argentina who provide a breakfast club for disadvantaged children. 
To find out more please email 
Sorry - 5 Dec FULLY BOOKED


Tiddlywinks Christmas Party
Saturday 9th December - 10am-11.30am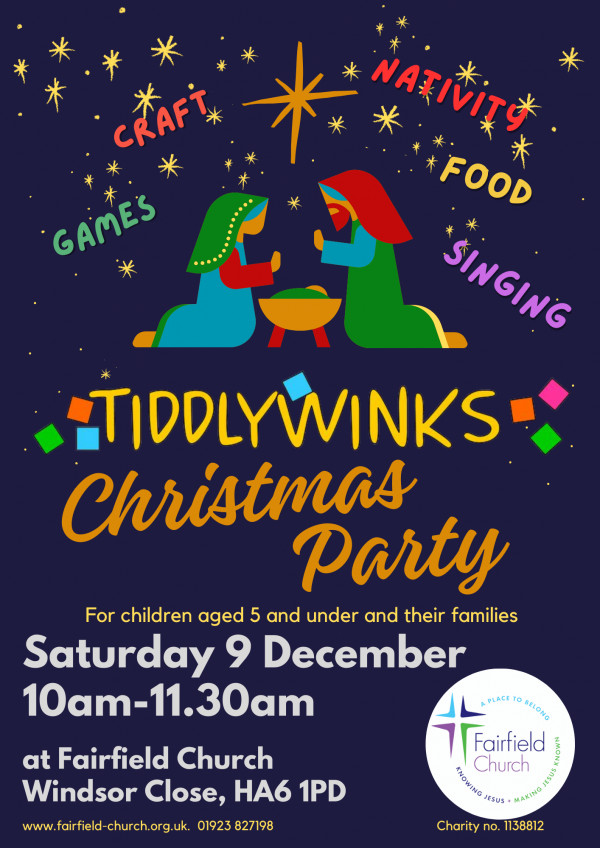 Come along to a morning of fun for the whole family here at Fairfield (bring younger/older siblings, cousins, mums/dads)! 
This free morning will be aimed at the younger children (18 months-5 years old) - with craft, an interactive nativity, songs, food and party games - all to celebrate the greatest gift - the birth of Jesus Christ. 
A gift from us to the younger child is included - but those siblings over 5 years old will get a small something too. 
Any questions contact